Product Overview
COMING SOON!
Sorry for the long delay. The Pillars in this kit can ship, but the Front Mag Clip still needs some work. I am currently testing and re-testing the fit of the Front Mag Clip on the Boyds stocks (including my personal stock) to make sure there is a good, consistent fit on all of the Boyds stocks. We are also setting up another CNC Mill to help in production capacity.
It has been a long time for some customers, but I am sure it will be worth the wait.
Contact me if want to pre-order and be one of the first to receive the new kits.
Thank you for your order in advance!
Front Magazine Clip & Pillar Kit

The kit contains the Front Magazine Clip and the front and rear pillars for mounting a Thompson/Center Compass to a Boyds stock.

The Front Magazine Clip is CNC milled from 6061 aluminum and replaces the plastic front mounting clip included with a Boyds Stock. Replacing the plastic mounting clip allows you to properly torque down the front mounting fastener. The front pillar is .27" ID x .375" OD x .6" long. The rear pillar is .27" ID x .375" OD x 1.125" long.
Using the pillars will require some fitting (drilling the mounting holes in the stock, and cutting or filing the pillars to the correct length). The thickness of the Boyds stock can vary, so customize the length of the pillars to fit your particular stock. If unsure, installation by a qualified gunsmith is recommended. It is recommended to replace the plastic trigger guard.
Get rid of the plastic and add pillars for a good solid mount!

Made in the USA!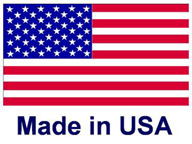 See our video (link on this page) and on our Youtube Channel for more information.
Product Videos
Reviews