Product Overview
Front Magazine Clip & Pillar Kit

The kit contains the Front Magazine Clip and the front and rear pillars for mounting a Boyds stock to a Savage Axis rifle. The kit also fits the Savage Axis II XP Hardwood stock.
The Front Magazine Clip is CNC milled from 6061 aluminum and replaces the plastic front mounting clip included with a Boyds Stock. Replacing the plastic mounting clip allows you to properly torque down the front mounting fastener. The bottom insert on the mounting clip is removed to allow proper pillar bedding of the stock. The front pillar is .27" ID x .375" OD x .5" long. The rear pillar is .27" ID x .375" OD x 1" long.
Using the pillars will require some fitting (drilling the mounting holes in the stock, and cutting or filing the pillars to the correct length). The thickness of the Boyds stock can vary, so customize the length of the pillars to fit your particular stock. If unsure, installation by a qualified gunsmith is recommended. It is recommended to replace the plastic trigger guard.
Get rid of the plastic and add pillars for a good solid mount!

Made in the USA!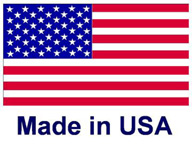 See our video (link on this page) and on our Youtube Channel for more information.
Product Videos
Reviews